Essay Writing Competition Malaysia 2013
TSL 2018 International Schools Essay Competition and Debate
My plan to protect and manage our oceans, seas and marine resources
Global essay competition and debate invites schoolchildren to explore practical ways to conserve and sustainably use our oceans, seas and marine resources (SDG 14)
NEW!Primary School Essay Results – Secondary School Essay Results
According to the UN, the world's oceans – their temperature, chemistry, currents and life – drive global systems that make the Earth habitable for humankind. Our rainwater, drinking water, weather, climate, coastlines, much of our food, and even the oxygen in the air we breathe, are ultimately provided or regulated by the sea. Throughout history, oceans and seas have been vital conduits for trade and transportation. Yet as a result of human activities, over 30% of marine habitats have now been destroyed, ocean chemistry is changing and more than half of all marine species could face extinction by 2100. Careful management of this essential global resource is a key feature of a sustainable future.
We are inviting children to share their best ideas for conserving and sustainably using the marine environment. The livelihoods and wellbeing of the world's population, especially Small Island Developing States, are dependent on this great marine environment. Through UN SDG 14 and newly emerging concepts like the 'blue economy', countries are encouraged to protect and sustainably manage the oceans and seas while tapping into their economic potential.
The annual TSL essay competition and debate is aimed at primary students (ages 7-11) and secondary students (ages 11-17), supported by Teacher Champions, parents and schools.
One overall Grand Prize winner (plus Teacher Champion and parent) will win a free trip to the TSL 2018 Debates & Awards in the Seychelles (2-7 July, 2018). In addition, medals will be awarded in each category for the top ten essays and for the best individual and group contributions at the Debates.
All students and Teacher Champions who participate in the essay competition are invited to attend the Debates, regardless of whether their essays are singled out for special recognition as Finalists or Honourable Mentions.
TSL 2018 Debates & Awards Programme (2-7 July, 2018)
Register now to attend the 2018 Schools Debates & Awards (closes 31 May)
Debate Accommodation Options
Key Dates
Veda Fernandes (Jumeirah Primary School, UAE) collected the 2017 Grand Prize at the TSL International Schools Debates & Awards at Oxford University, while Aninthitha Nath (RN Podar School, India) won 1st Prize in the Secondary Schools category. Around 200 children, teachers and parents from 30 countries participated in the 2017 Debates & Awards.
7 September to 17 December 2017 – School/Teachers register to participate as Teacher Champions.
19 December 2017 (midday GMT)  – Deadline for submission of essays (and Schools Sustainability Challenge videos).
31 January 2018 – Announcement of essay competition Finalists and Honourable Mention awardees. Primary Schools – Secondary Schools (please note: all students are invited to participate in the Debates, whether or not their essay received Finalist or Honourable Mention recognition)
31 May 2018 – Registration deadline for the Schools Debates & Awards (registration is compulsory in order to attend).
2-7 July 2018 – International Schools Debates, Awards and Visits, Victoria, Seychelles. In addition to the Primary and Secondary School Debates, which will take place on consecutive days, delegates will attend a Children's Ocean Conference, a CPD Workshop for Teachers, educational Day Trips, and  and a specially planned Cultural Evening. All participants other than the Grand Prize Winner are responsible for making their own travel arrangements (e.g. flights, transfers, accommodation, subsistence and miscellaneous costs). Debates & Awards Programme – Accommodation Options
Essay Competition
Each student is invited to submit one essay in English, entitled:
Primary students (ages 7-11): 'My plan to protect and manage our oceans, seas and marine resources' (max. 400 words)
Secondary students (ages 11-17): 'My plan to protect and manage our oceans, seas and marine resources' (max. 600 words)
The top prize winning essays from our 2017 essay competition on climate action were sent to UN Secretary General Antonio Guterres.
An international judging panel, drawn from experts and educationalists in the field, will select the winning entries for each age category. The essays will be judged for originality and creative thinking and the potential to contribute to a broad-ranging and constructive international debate. The winning essays will be published on the competition website.
For each category, schools are invited to submit up to 30 essays online. (These must be submitted by the Teacher Champion, using the login details provided at registration. We regret that paper and emailed copies cannot be accepted, and essays more than 10% over the word limit will be automatically rejected.)
Debate
The 2018 Debate themes are:
Primary students (ages 7-11): 'We can save the world's oceans, seas and marine resources by 2030'
Secondary students (ages 11-17): 'This house believes that the targets of UN SDG 14 are achievable'
UN SDG 14 challenges all nations to play their part in the conservation and sustainable use of the oceans, seas and marine resources. This is a crucial goal with a list of targets not previously considered in the Millennium Development Goals. Most of these targets require a lot of commitment from each country and the collective involvement of stakeholders at different levels of society. On one hand, the targets may appear to be ambitious and require more time to be implemented, and on the other, they may appear to be realistic and achievable within the set time-frame.
Resources for Schools
To assist teachers and students in preparing for the competition and debate, links to supporting online Teacher Resources are provided here as a starting point for their enquiries.
(To access supporting resources on themes from previous years, use the menu bar at the upper left hand side of this page.)
TSL 2018 Schools Sustainability Challenge
In addition to the essay competition, the Trust for Sustainable Living runs a parallel international contest called the Schools Sustainability Challenge. Teacher Champions are invited to submit short videos showcasing their schools' best sustainability projects. Schools are welcome to participate in both contests. The Challenge winners will be announced at the 2018 Debates & Awards in the Seychelles.
Enquiries & Updates
Subscribe to our newsletter (using the form in the sidebar), to receive periodic updates and announcements about the competition.
Email queries should be directed to: schools[AT]livingrainforest[DOT]org
Subscribe to our newsletters
Enter your email address in the box provided to sign up for free email updates
About our charity
Learn more about the work done by The Trust for Sustainable Living... Read more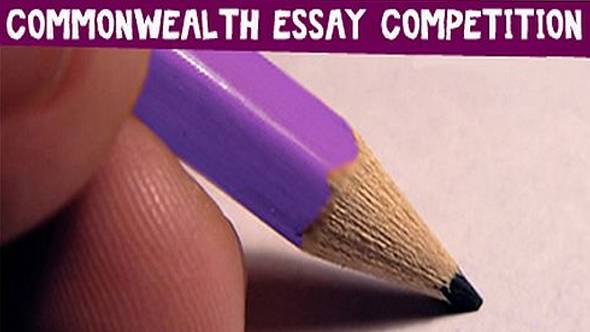 This year has been a record-breaking year for the Commonwealth Essay Competition. Not only has the competition received in excess of 11,000 entries, but over 70 judges have been involved in the judging process and the standard of entries has been excellent.
As the competition celebrates its 130th anniversary, it is evident that the competition remains an important means of expression for young people across the Commonwealth, as over 830 schools across 55 Commonwealth countries and territories participated.
For 2013 the theme of the competition was 'Opportunity through Enterprise'. The judges were impressed at the creativity and research that entrants displayed in approaching the topics.
As ever, there was an extremely high standard of entry as participants competed with their peers from every corner of the Commonwealth, so to win an award is a big achievement.
We are delighted to announce that over 2,000 entries won awards, with the top prizes going to New Zealand, Guernsey, Canada and Hong Kong. The judges also selected a number of excellent Gold entries from both the Junior and Senior Categories to receive special commendations.
The top two Prize Winners will be flown to London for a special awards ceremony in the autumn and the Runners-Up will be invited to local awards ceremonies.
All Gold, Silver and Bronze winners will receive certificates before the end of 2013 and entrants who didn't receive an award this year are entitled to certificates of participation.
Congratulations to all winners and thank you to the Commonwealth Essay Competition 2013 sponsors Cambridge University Press for their support in this record-breaking year!
Awards
Senior Gold Awards 
Senior Silver Awards 
Senior Bronze Awards 
Junior Gold Awards 
Junior Silver Awards 
Junior Bronze Awards 
Special Commendations
These are Gold entries that the judging panels felt were in contention for the title of Prize Winner and Runner-Up and deserve special commendations.
Senior Category
Kavya Deshpande, 14 years old, India
Vernise Wong Yun Lin, 15 years old, Nanyang Girls' High School, Singapore
Liew Ying Ching, 15 years old, Malaysia
Lauren Palmer, 18 years old, South Africa
Cecilia Wang, 16 years old, Endeavour College, Australia
Karisma Maheswari, 15 years old, Aditya Birla World Academy, India
Mbali Shongwe, 16 years old, Durban Girls' High School, Durban, South Africa
Yi Ning Chang, 15 years old, Nanyang Girls' High School, Singapore
Junior Category
Ishani Mukherjee, 13 years old, India
Thomas Hodson, 14 years old, Baobab College, Zambia
Aidan Blakney, 9 years old, Queenstown Primary School, Singapore
Charisse Kwong, 11 years old, The Learning Lab, Singapore
Desiree Ng Yu Qing, 14 years old, Tanjong Katong Girls' School, Singapore
Dulani Hannadige, Ladies College, 15 years old, Sri Lanka
Kaw Khin Kant, 13 years old, Temasek Junior College, Singapore
Nuzhat Biswas, 14 years old, Lakehead Grammar School, Dhaka, Bangladesh
Shenali Wijesinghe, 14 years old, Sri Lanka
Special Mentions
These are entries from students with learning difficulties that the judges felt deserved a special mention.
Samuel Preece, 18 years old, Crosskeys Campus Coleg Gwent, UK
Danielle Oak, 18 years old, Crosskeys Campus Coleg Gwent, UK
For further updates, you can follow the Royal Commonwealth Society on Facebook and Twitter.
To contact the competitions team email competitions@thercs.org